Post Anchors and Sockets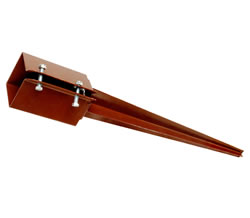 Powder coated post anchor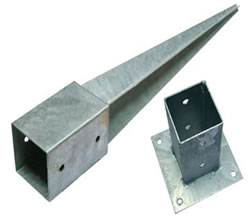 Galzanised post anchor & socket
This type of galvanized or powder coated post fixing are a very good way of securing a wooden post to the ground where digging and concreting in is not a viable option.
They come in a number of types, typically a clamp together socket or interference wedge socket, that drives into the ground in the form of a spike. An alternative type is in the form of a bolt down plate.
Sizes range from 50mm x 50mm (2" x 2") up to 100mm x 100mm (4" x 4"). 150mm x 150mm (6" x 6") bolt down sockets are also available.