Steel Palisade Fencing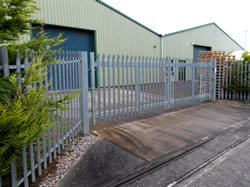 Steel palisade fencing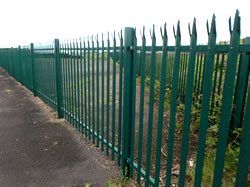 Steel palisade fencing
Steel Palisade is the most popular anti intruder fence barrier available.  It is available in varying heights and colours.  The posts are normally set at 2.75m / 9ft intervals.  They are pre fabricated to have the joiner/fish plates threaded through their section, which connect to the pre hole punched rails.  The pales come in 2 main section profiles, D and W section with a rounded top or a triple point top (spiked).
The pales are bolted to the rails at regular pre fabricated intervals and are connected using a domed bolt and a nut that shears it's hexagon part off to prevent tampering with a conventional spanner.
Steel Palisade is only available as a special order, as requirements vary so much. Also, as Steel Palisade is a heavy metal fence it is subject to the weekly fluctuations in the steel commodity price.