Closeboard Fencing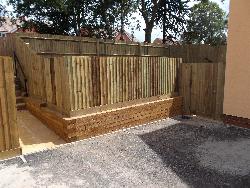 Closeboard fencing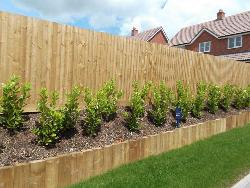 Closeboard fencing
Closeboard Fencing lends itself to give privacy and is easily erected to accommodate undulating terrain.  It is built by assembling components: posts, rails, gravel boards (optional) and feather edge pales.
The posts can be of timber which should be of a redwood variety and treated for ground contact uses. They ought to give a minimum of ten years service.
Alternatively, concrete posts and gravelboards can be used which should give a minimum of 25 years service life. Various methods of closeboard erection are apparent in differing geographical locations, for example; 125mm - 150mm (5" - 6") feather edge pales are commonly used in the South West, whereas 100mm/4" feather edge pales are use in the South East, along with morticed posts and scarfe ended arris rails.