Timber Round Top Palisade Fence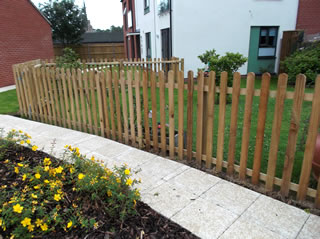 Timber Round Top Palisade Fence
Round top or Pointed top Palisade or Picket fences are a very decorative see through barrier for a front garden or play area situation.  The most popular heights are between 900mm and 1200mm (3' - 4').
Where small children are in constant close proximity to the fence, a round top pale is the best solution as there are no pointed tops.  The pales can be a planed smooth finish to make painting easier and more effective.
Spacing between each pale can vary according to personal taste 50mm - 70mm (2" - 3") spacings are the most popular.